In a collaboration between the Women's International League for Peace and Freedom (WILPF) , World BEYOND War (WBW), and the International Peace Bureau (IPB), we come to present you two Open Letters written especifically for the occasion of the COP27 happening in Sharm el-Sheikh, Egipt from the 6th to the 18th of November.
The first letter is addressed as an Appeal to the United Nations Framework Convention on Climate Chang (UNFCCC) to Study Climate Impacts of Military Emissions and Military Spending for Climate Financing. The second one, as a Global Appeal to Reduce Military Spending and Re-Allocate to Climate Financing, is addressed to Yannick Glemarec, Executive Director of the Green Climate Fund.
"It is inconceivable that while millions of people are waiting for vaccines, medicines or food to save their lives, the richest countries continue to prioritize their resources in armaments at the expense of people's well-being, climate, health and equitable recovery."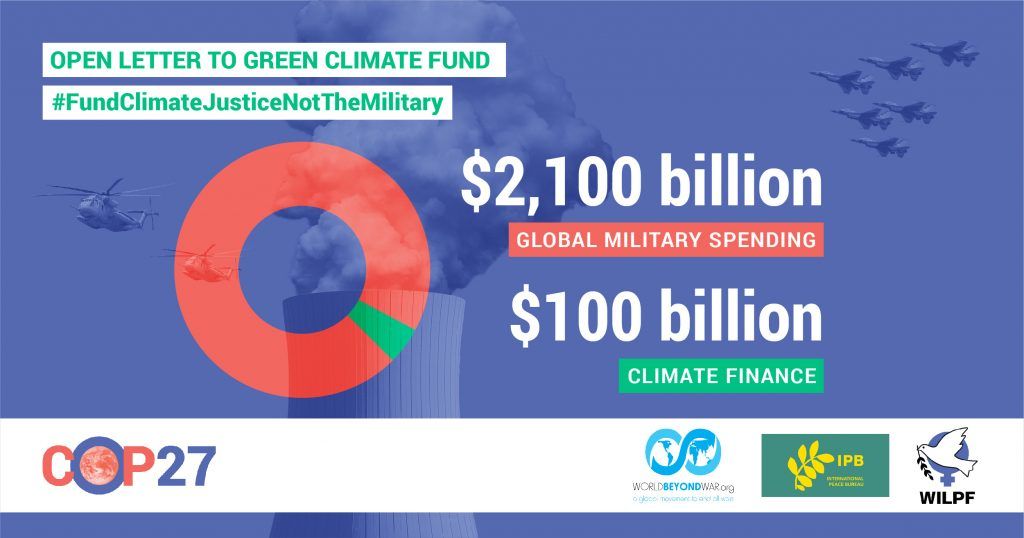 We appeal to the UNFCCC and the IPCC to do a special report and assessment of the climate impacts of war and the military. Global military spending has risen to over $2.1 trillion USD. We urge the UNFCCC to call on member states to cut military spending for climate financing.
In 2021, global military spending rose to $2.1 trillion (USD), the highest ever in history. This is 20 times more than the $100 billion pledged for climate finance, a target that Western countries failed to meet.
The military is the largest consumer of fossil fuels and biggest carbon emitter in the governments of state parties. Countries must demilitarize to decarbonize.
Military emissions and expenditures are derailing progress on the Paris Agreement. Peace, disarmament and demilitarisation are vital to mitigation, transformational adaptation, and climate justice. We also appeal to the Green Climate Fund to study the reduction and re-allocation of military spending for climate financing facilities.