On Sunday 5 September, the European month of action against nuclear weapons in Europe was kicked off in Büchel, Germany. 800 peace activists formed a human chain to protest against the US nuclear bombs at the Fliegerhorst air base as part of NATO's nuclear sharing arrangements.
The action took place just weeks before the September 26 federal elections to call on Germany to join the UN nuclear weapons ban (TPNW), which has been in force since January 22, 2021. The peace movement has been campaigning against nuclear arms at the air base for 25 years. The human chain was organized by the campaign "Büchel is everywhere! Nuclear Weapon Free Now".
At around 1 p.m., a mile-long human chain was formed. To respect corona distances, the protesters used peace ribbons and banners. The participants also included activists from other European countries. Several speeches were held afterwards. To emphasize the European dimension, there were also speakers from Belgium, the Netherlands and Italy.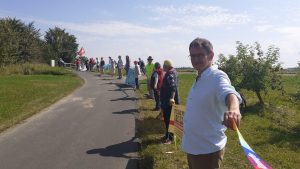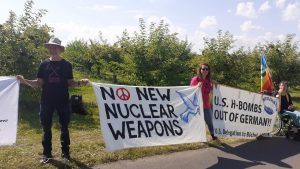 Article writen by Ludo De Brabander (Vrede.be)
If you want to learn more about Nuke Free Europe, click here.