Bruce Kent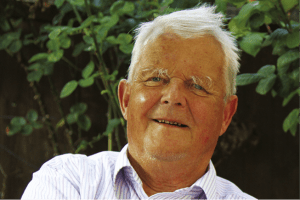 Bruce Kent is an internationally known peace activist and a "real peace hero" who, even in his 90th year, remains an active campaigner and organizer for peace and human rights. He was one of the main speakers at the big march and demonstration against nuclear weapons in London in 2016.
Bruce was ordained as a Catholic Priest in the Diocese of Westminster in London in 1958 and became a Chaplain to Pax Christi in from 1974-1977. He joined the Campaign for Nuclear Disarmament (CND) in 1960 and was elected chair from 1977-1979, becoming the General Secretary in 1979 for 6 years. He was elected CND Chair again from 1987-1990. He was also Chair of War on Want from 1974-1976 and was the British co-ordinator for the Hague Appeal for Peace in 1999. He is now a Vice-President of CND, Pax Christi and Movement for the Abolition of War (which he co-founded in 2001).
He was also one of the founders and main organizers of the European Nuclear Disarmament Campaign in the 1980s. He was also, in 1988, one of the main organizers of a 1000-mile peace walk from Warsaw to NATO HQ in Brussels to call for a united peaceful nuclear-free Europe.
Bruce was also IPB President from 1985 till 1992 and he has been an inspiration to so many people of all ages in the UK and elsewhere.
____________________________________________
On Saturday 19th of October 2019, Bruce Kent received the Seán MacBride Peace Prize Medal in London. Here you can see some photos from the ceremony and get an impression!