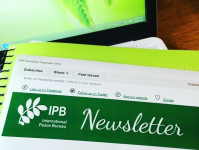 Autumn is here and for IPB it is exciting times with a wide range of activities going on, such as our World Congress in Berlin, a peace speech in Athens and the publication of the 2015 Activity Report.
Now we can add to the excitement with the release of our September newsletter! Get the latest news about military spending, learn about the Montreal Declaration for a Nuclear-Fission-Free World and why President Obama regrets the "biggest bombing in history".
Get the newsletter here !