The International Signature Campaign in Support of the Appeal of the
Hibakusha was launched in April 2016 in the name of prominent Hibakusha of Hiroshima and Nagasaki. Since its launch, the signature campaign has been supported by a broad range of prominent individuals and organizations, enjoying great support from people across the world. The collected signatures, total 11,843,549 (as of March 31, 2020,) making it one of the largest signature campaigns ever carried out in the world and a powerful popular force manifesting global demands for the complete elimination of nuclear weapons. The signatures have been submitted and
acknowledged by the U.N. and NPT PrepCom Chairs.
In addition to worldwide efforts, across Japan signature promotion committees have been established in each of Japan's 47 prefectures, leading to the endorsement of the Appeal by 1263 mayors and governors. On the August 6-9 the 75th anniversary commemorations for the bombing of Hiroshima and Nagasaki, the "Peace Wave" of international joint actions by grassroots organizations will circle the globe with activities to press for the elimination of nuclear weapons with the Hibakusha Appeal signature campaign serving as the Peace Wave's common action.
---
On March, 17th 2021, the Séan MacBride Peace Prize has formally been awarded to Terumi Tanaka, Convenor of the Promotion Committee of the Int. Hibakusha Appeal Signature Campaign. During this first online award ceremony featuring a warm welcome from IPB Co-President Lisa Clark and Rieko Asato from the IPB Board/Gensuikyo, moderation by IPB Ex. Director Reiner Braun and an expressive and extremely timely Laudation by IPB CO-President Philip Jennings, Terumi Tanaka and the Signature Campaign's Leader Mitsuhiro Hayashi vividly illustrated the central importance the struggle against nuclear weapons still occupies in our world today – for the Hibakusha, for the Japanese people, for every world citizen.
They left the guests with the powerful message of pride for their achievements, determination on the steps ahead, but most of all: Hope for the future, a nuke-free future, to come.
Akira Okuma performing 'Imagine' in Japanese and as English singalong made this event a truly unique experience, uniting us if not in space but in spirit.
Our deepest thanks to all organizers, speakers, interpreters, technical support and guests from all over the world who made this ceremony special against all contemporary odds.
Have a look at the programme and some images of the Ceremony below, or watch the event on YouTube!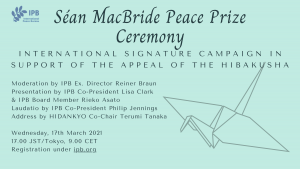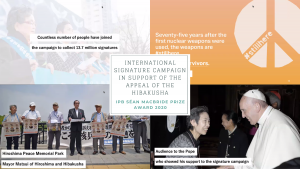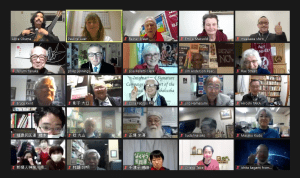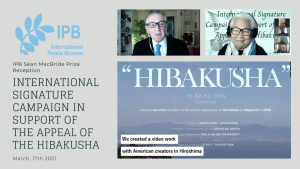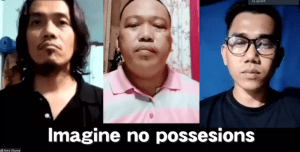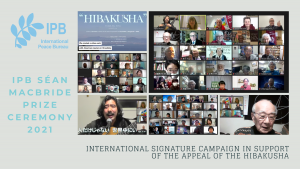 SéanMBride Prize Programme FINAL