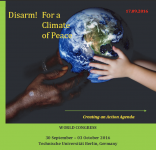 19 Sept 2016. As the date of the IPB`s world congress 2016 Disarm! for a Climate of Peace is approaching fast, we are happy to present the final version of the congress programme: Here. In it we proudly present our new supporters such as the Nobel Peace Center and BetterWorldLinks, we introduce you to the more than 200 speakers that will take part in the plenaries, panels and workshops, and last but not least, we guide you through all the side events and activities around the congress.
With the latest information, you will be fully equipped to make the most of your participation. So immerse yourself in it, and remember to check the website and Facebook page for day-to-day updates.
You will also find the program and all relevant information in our congress app IPB WC2016 Berlin.
https://itunes.apple.com/fr/app/ipb-wc-2016/id1140184322?mt=8
http://ipbwc.mobi/
Register now and remember to spread the word to friends and colleagues. We look forward to welcome you to Berlin Sept 30-Oct 3!