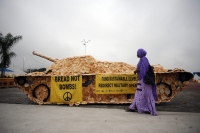 With the help of its many partner organizations, IPB was able to bring the disarmament perspective to Rio+20. Through our side events on 'disarmament for development' and 'the linkages between food security and armed conflicts', we were able to discuss with other stakeholders the importance of disarmament and to encourage them to join our call.
The main attraction of the week, however, was our tank made of bread.
The tank was first presented in the favela Santa Marta, where the community leader together with some representatives from Viva Rio destroyed firearms that had been collected in that favela. If these people were able to hand in their arms, why can't governments do the same and disarm?
The second day, our bread tank participated in the Global March through the city center. It was accompanied by a local Samba school which brought a lot of attention to us and inspired people to dance around the tank. Many passersby took the opportunity to take pictures in front of our tank.
The next big media event around the tank took place in front of the official UN venue, at the Athlete's Park. Speakers included former UN High Representative of Disarmament Affairs, Ambassador Sergio Duarte; the Coordinator of International Actions to Fight Hunger from the Brazilian Ministry of Foreign Affairs, Mr. Milton Rondo; the President of ICLEI (local Governments for Sustainabiliy) Mr. David Cadman; Valentina Herszage and Dora Freind, two students giving a simple lesson in mathematics on the costs weapons; as well as several Brazilian Mayors.
After the speeches, all participants signed our Rio Appeal in which we demand a reduction of 10% of the global military spending and the reorientation of this amount to social projects. This event attracted a lot of international and local media and the tank was the main attraction of the Athlete's Park. The exhibition juxtaposing specific development projects to weapons was also much appreciated and well visited.
The World Future Council produced a video showing the 'Making of' the bread tank and all the events. We hope you will like it.
IPB would like to thank all the partner organizations for their hard work and fruitful collaboration: the World Future Council, the International Network of Engineers and Scientists for Global Responsibility, Mayors for Peace, Viva Rio and Mundo sin Guerra. We will continue working together and bringing the bread tank to other events in order to make sure everyone understands the importance of disarmament for development