IPB worked with several other organisations to organise three very successful activities to mark the Global Day of Action on Military Spending – a project itself co-coordinated by IPB. Activities included a public action at the Place des Nations, a lunchtime seminar on 'Military Spending or the MDGs?', and an evening meeting on militarisation in Burma.
What we did:
1. Public action at the Place des Nations in front of the UN, with 2 famous disarmament monuments, the Landmines Chair and the Twisted Cannon. It was organised by IPB and the Group for Switzerland without an Army/GSSA. A Symbolic installationt shows the vast disparity between global military spending and what is needed for the MDGs – using 160 boxes each representing $10bn, and 30 boxes for the MDGs.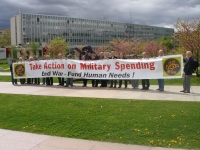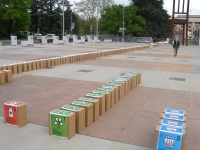 2. Lunchtime seminar near the UN, with participation from diplomats (incl. US and German Ambassadors), NGOs, students, others. The room was full. Speakers:
– Elisabeth Sköns (SIPRI) – presented the 2010 military spending statistics and some useful historical references;
– Beatrice Fihn (WILPF Intl/Reaching Critical Will) commented on the disconnect between military and human security, and stressed the importance of linking up work done on disarmament with the human rights system;
– Colin Archer (IPB) explained about the worldwide civil society campaign and introduced some strategic ideas, projects and publications.
3. Evening discussion meeting with the Swiss Burma Association on militarisation in Burma, incl. screening of the Democratic Voice of Burma TV documentary 'Burma's Nuclear Ambitions' (43min) which features chilling testimony from a whistleblower/defector from the Burmese military.
Our event involved working closely with SIPRI, GSSA, WILPF and ASB. IPB has worked with them all before, but the GDAMS action was helpful in cementing the relationships. Media coverage: was not as good as hoped, but we did get: – An interview with Leman Bleu TV (in French, 11mins 50 into the clip). The mass circulation paper '20 Minutes' carried an item with a photo of the 'boxes' installation.
One interesting idea raised in the lunchtime seminar was to organise an 'Article 26 committee' to explore ways to encourage states to live up to their commitments under UN Charter Article 26. Another proposal put forward for IPB work is to develop a special focus on the private sector/privatisation aspect, to complement the focus on government spending.
We hope to be able to start the Geneva planning process earlier next year and to engage more VIPs, political personalities etc. Meanwhile IPB will be heavily engaged — together with our co-organisers at IPS — in promoting dialogue with governments and mobilising civil society actors all over the world, so that the issue of military spending vs. development/social justice becomes a mainstream political issue!