Map Unavailable
Date/Time
Date(s) - Wednesday - Apr 21, 2021
10:00 am - 12:00 pm
Categories
The International Peace Bureau's Asia working group would like to introduce its next upcoming webinar in light of the campaign for Nuclear Free Zones.
Registration for this event is now open and can be accessed here.
This event will be held in English. Simultaneous Japanese-English translation will be provided.
Speakers are listed below.
Ms Sung-hee Choi, Republic of Korea, Gangjeong Peace Network and activist in Jeju Island
Mr Shushi Kajimoto, Japan, General Secretary of Hyogo Council against A and H Bombs (Hyogo Gensuikyo) and National Board member of Gensuikyo
Dr. LisaLinda Natividad, Guam  – Professor of Social Work at the University of Guam and primary convener of the Guahan Coalition for Peace and Justice
Professor Roland Simbulan, the Philippines,Vice Chair of Board of Directors at the Centre for People Empowerment in Governance (CenPeg).
Alyn Ware, New Zealand/Aotearoa, Global Coordinator for Parliamentarians for Nuclear Non-Proliferation and Disarmament
Kate Dewes, New Zealand/Aotearoa, Director of Disarmament and Security Centre
Dr. Enksaikhan Jargalsaikhan, Mongolia, Chairman of Blue Banner and IPB board member
Detailed biographies on each speaker follow the concept note.
Moderation will be performed by Corazon Valdez Fabros of the Philippines, member of Gensuikyo and IPB Vice-President
Webinar concept note
Besides the pandemic and the climate change, the threat of nuclear weapons continues to hang over. Entry into force of the Treaty on the Prohibition of Nuclear Weapons (TPNW) marked an important step by the non-nuclear-weapon states (NNWSs) in addressing that threat and a clear reaffirmation that nuclear weapons are no longer an exclusive domain of nuclear-weapon states. Nuclear deterrence and the logic that ultimate peace is found in ultimate terror are henceforth unacceptable. However, judging by the reaction of nuclear-weapon states and their allies, reducing nuclear threats will not be easy.
Establishing of Nuclear Weapon Free Zones (NWFZs) is a practical contribution of NNWSs to nuclear non-proliferation and confidence-building, to which the five nuclear-weapon states provide security assurances. Today there are five NWFZs consisting of 119 states and 18 territories, and making up about 2 bil. people. We are also witnessing efforts to establish the so-called second generation of NWFZs, i.e. in regions with conflicts or where great powers have geopolitical stakes, such as in the Middle East, Northeast Asia and the Arctic. In all these regional zones safety in numbers plays an important role.
However in the Indo-Pacific region there are states or territories that due to their geographical location or for some compelling political/legal issues cannot form part of regional zones. That creates not only a legal loop hole in international law but in practice nuclear blind spots and grey areas (at best) in the yet to be established nuclear-weapon-free world. As we all know, a nuclear-weapon-free world would only be as strong as its weakest link. Hence more attention needs to be paid to the risk of blind spots and grey areas.
Nuclear-weapon states agree in principle to establishing regional NWFZs, however when it comes to single-state NWFZs (SS-NWFZs), they have so far been reluctant to accept such zones explaining that doing so would establish precedents unfavourable to them as well as "discourage" establishing regional zones. Such an approach raises a logical question: what is more important, a precedent establishing SS-NWFZs that would, like regional zones, contribute to international confidence, security and stability or knowingly creating nuclear blind spots or grey areas for continuing the nuclear arms race and thus contributing further to distrust. On the other hand, successfully addressing this issue will contribute not only to regional but to common security in XXI century.
So far Mongolia alone has been promoting the issue of SS-NWFZ. Bearing in mind the loop holes in law and actual practice, it is time to address this issue that affect more than a dozen states and territories.
The webinar to be held on 21 April, will be organized by Asia Group of International Peace Bureau and provide an opportunity to get to know the challenges that small individual states and non-self-governing territories face in becoming part of the nuclear-weapon-free world. In that common cause the understanding and support of international NGOs, including of IPB, would be needed.
We look forward to having you with us.
Dr. Enksaikhan Jargalsaikhan
Mongolia, Chairman of Blue Banner and IPB board member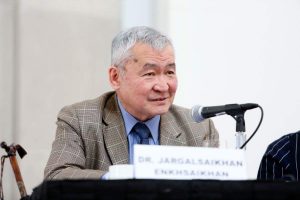 Dr. Enkhsaikan is international lawyer and diplomat. He served as Ambassador-at-Large in charge of Multilateral issues in Mongolia; Ambassador of Mongolia to Austria and Permanent Representative to IAEA and the United Nations headquarters in New York. In Mongolia proper he served as Executive Secretary of the National Security Council (i.e. National Security advisor) as well as Foreign Policy and legal advisor to the first democratically elected President of Mongolia. He currently serves as Chairman of Blue Banner, a Mongolian NGO working with other national and international NGO's to promote confidence and regional cooperation in nuclear non-proliferation and establishment of NEA-NWFZ. Dr. Enkhsaikhan has written numerous articles on theory and practice of international relations, security policy of great powers and of small states, and international legal issues. He graduated from Moscow State Institute for International Relations where he also received his PhD degree in International Law.
Mr. Alyn Ware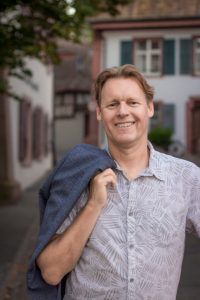 New Zealand/Aotearoa, Global Coordinator for Parliamentarians for Nuclear Non-Proliferation and Disarmament
Originally from New Zealand or Aotearoa, Alyn is an educator, organiser and campaigner in the areas of peace, non-violence, nuclear abolition, international law, human rights (including gender and children's rights) and the environment. Alyn's work has allowed him to live in the USA and Switzerland with his current home being in Prague, the Czech Republic. Alyn is a leader in the nuclear disarmament advocacy community and is currently involved in a number of international initiatives relating to this. Currently, his main role is Global Coordinator for Parliamentarians for Nuclear Non-proliferation and Disarmament (PNND). PNND works closely with the Basel Peace Office, of which Alyn is also Director. Alyn also works with New Zealand based organisations including as the International Representative for the New Zealand Peace Foundation and Peace and International Security Officer for the United Nations Association of New Zealand. Alyn has been presented with several awards for his work in peace, the most recent of these being the World Peace Award in 2014 by the World Federalist Movement, Canada and was nominee for the Nobel Peace Prize in 2015.
Dr. Kate Dewes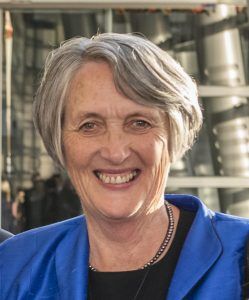 New Zealand/Aotearoa, Director of Disarmament and Security Centre
Dr. Catherine (Kate) Dewes is currently the co-Director of the Security and Disarmament Centre in New Zealand, which she co-founded with her husband. Throughout her career, Kate has taken leading roles a number of nuclear disarmament initiatives including successfully lobbying for the New Zealand Nuclear Free Zone, Disarmament, and Arms Control Act 1987 and being appointed to the United Nations Special Session on Disarmament III in 1988. She played a key role in the World Court Project which ultimately led to the International Criminal Court's ruling that the use and threat to use nuclear weapons was illegal according to international law. This also formed the basis of her doctoral dissertation, titled 'The World Court Project: The Evolution and Impact of an Effective Citizens' Movement'. Between 2008 and 2012 she was appointed to the United Nations Secretary-General's Advisory Board on Disarmament Affairs. Kate and her husband, Robert Green, were members of the negotiating team for the Treaty on the Prohibition of Nuclear Weapons. In 2019, Kate and her husband were nominated for a Nobel Peace Prize and in 2000 Kate was made an officer of the New Zealand Order of Merit for her services to the peace movement.
Dr. LisaLinda Natividad
Guam, University of Guam and Guahan Coalition for Peace and Justice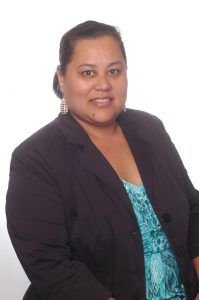 Dr. Lisa Linda Natividad is a Professor of Social Work at the University of Guam.  She is also the primary convener of the Guahan Coalition for Peace and Justice and a founding member of I Hagan Famalao'an Guahan.  She is an indigenous Chamoru who has championed the exposure of the human rights violations against her people and homeland Guahan, which is a military colony of the United States.  She has spoken globally on the topics of demilitarization, decolonization, and the critical role women play in the creation of safe and thriving communities.  Dr. Natividad has presented interventions on the halting of the massive military build-up on Guahan before the United Nations Fourth Committee, Decolonization Committee, and the Permanent Forum on Indigenous Issues.  She is a former member of the Guam Decolonization Commission and has spoken on these issues in Japan, the Philippines, the Untied States, Norway, Ecuador, Fiji, and other countries. Dr. Natividad joined the IPB Council in March 2021.
Ms. Sung-hee Choi
Republic of Korea,  of Gangjeong Peace Network in Jeju Island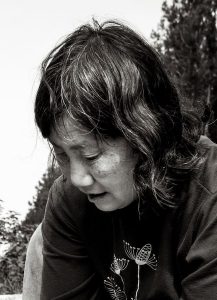 Sung-hee Choi joins the struggle opposing the Jeju navy base and militarization of jeju. She also joins other struggles such as "No to the Jeju Second Airport (which is suspected to be an air force base)" and "No to the National Satellite Integrated Operation Center" currently planned in Jeju. She has worked in the village international team. She also works for the Gangjeong Peace Network, Association of Gangjeong Villagers Against the Jeju Navy Base, People Making Jeju a Demilitarized Peace Island, and Inter-Island Solidarity for Peace. She is also a Korean board member of Global Network against Weapons and Nuclear Power in Space.
Mr. Shushi Kajimoto
Japan, General Secretary of Hyogo Council against A and H Bombs (Hyogo Gensuikyo) and National Board member of Gensuikyo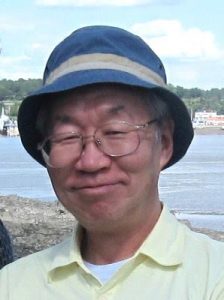 Born in 1948. Since childhood, he has visited Hiroshima every year to see his uncle (Hibakusha) and explore the A-bomb museum. He joined the movement for democracy and justice in late 1960s and led the student movement against the war in Vietnam and for the reversion of Okinawa to Japan. In 1987 he became General Secretary of Hyogo Council against A and H Bombs (Hyogo Gensuikyo) and promoted the signature campaign for a total ban and elimination of nuclear weapons, aiming to get more than half of the citizens of Japan to sign the Appeal. Over the years he has led the anti-nuclear peace movement in Hyogo and nationally, in promoting nuclear-free local municipalities, petitioning to the UN for nuclear disarmament and supporting the Hibakusha.
Prof. Roland G. Simbulan
The Philippines, University of the Philippines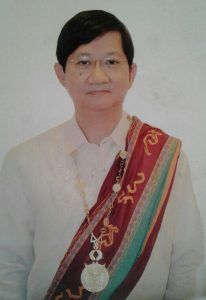 Professor Roland G. Simbulan has taught development studies and public management at the University of the Philippines(U.P.) for 38 years. From 1988 onwards, he was National Chairperson of the Nuclear-Free Philippines(NFPC). A former senior political consultant on foreign policy and national defense at the Philippine Senate (1987-1995), he has written eight books which include: THE BASES OF OUR INSECURITY: A Study of US Military Bases in the Philippines (1983, 1985, 1987); A GUIDE TO THE PHILIPPINES, A NUCLEAR COLONY (1988); THE CONTINUING STRUGGLE FOR AN INDEPENDENT PHILIPPINE FOREIGN POLICY(1992); FORGING A NATIONALIST FOREIGN POLICY (2010) among others, and chapters and articles published  in books and journals on U.S.-Philippine security relations, Philippine foreign policy, the Southeast Asia Nuclear Weapons Free Zone Treaty, overseas foreign bases, the CIA in the Philippines and Asia, counter-insurgency and paramilitarism, and US militarism in Asia. He has also published a book in Japan, FIRIPIN MINSHU VUIESU BEIGUN CHURYU (2012). Simbulan is a former Vice Chancellor and former Faculty Regent in the Board of Regents at the University of the Philippines. He is a Lifetime Member of the Pi Gamma Mu International Honor Society for the Social Sciences. He is currently the Vice Chair of the Board of Directors of the Center for People Empowerment in Governance( CenPeg), a public policy think tank.
Panelist talking points
Dr. Enksaikhan Jargalsaikhan
A new normal of active pursuit by non-nuclear-weapon states (NNWSs) and civil society in promoting the goal of a nuclear-weapon-free world
Role of NWFZs in contributing to regional non-proliferation and confidence-building
There should be no exception to NWFZs: Mongolia's case study
Loop holes in international law regarding NWFZs
Single-State NWFZs and their implications in un-tapping to the fullest extent of potential of NWFZs
Some thoughts and proposals
Ms. Sung-hee Choi
Jeju is located in the geopolitically strategic spot in Northeast Asia.
Despite people's hard struggle for more than 10 years, the Jeju navy base building was completed in Gangjeong Village, Jeju in Feb. 2016.
Jeju navy base (Jeju Civilian-Military Complex Port for Beautiful Tourism) is officially a South Korean base.
But because of the Article 4 of the ROK-US mutual defense treaty signed right after the Korean War, in 1954, the United States can use any South Korean base and facility as she wants.
It was on Nov. 22, 2017 when the 1st US nuclear submarine came to the Jeju navy base between war exercises. It stayed in the port for days. It was the moment when the people in Jeju began to raise the issue on the Jeju nuclear-free ordinance, given the example of Kobe.
There established people's meetings and a forum to drive for the Jeju nuclear-free ordinance.
On Oct. 11, 2018, the US nuclear aircraft carrier Ronald Reagan came to the Jeju navy base during the International Fleet Review.
The people's work to drive for the ordinance has posed as people began to face multiple issues such as Jeju 2nd airport project (people suspect it would be an air force base) and military road projects
Some Island civic groups continue the denuclearization movement. But currently Jeju civic groups' main focus has been the struggle against the Jeju 2nd airport.
Yet, people are aware that denuclearization of Jeju is one of critical conditions to build the true Peace Island, Jeju.
Jeju was designated as an Island of peace by the ex-President Roh Moo-hyun in 2005.
What is the meaning of Peace? Unfortunately, the concept of 'peace' has been contaminated. For the Government and military, 'peace' means 'militarization,' 'arms building' such as nuclear submarine and F 35.
Therefore, it is really important for the people to recover the concept of peace.
In early 1990s. domestic and international scholars gathered in Jeju and talked about true conditions for peace. Some of them were demilitarization, non-nuclearization, and neutralization.
However, the scholars who talked about those concepts began to defect with the strengthened US-South Korea alliance. And the original concepts of 'peace' in their talks were not reflected in the designation of Jeju as a World Peace Island.
Even though people's work for the nuclear-free is currently slow, people are aware that nuclear-free Jeju is important to realize the peace of Jeju and northeast Asia.
Otherwise, the Japanese' government's latest decision to discharge the waste water from Fukushima is disastrous. The citizens especially those in the countries of northeast Asia should fight together to make the decision to be withdrawn.
And I may also briefly mention about the US Indo-Pacific Strategy and Missile Defsense system.
Mr. Shushi Kajimoto
Nuclear free Kobe formula
The legal basis of the Nuclear Free Kobe formula

The Principles of the Constitution of Japan
The Three non-Nuclear Principles
The Local Government Act of 1947

Kobe Port under US occupation during the Korean and Vietnam Wars
Resolution on the Rejection of the Entry of Nuclear Armed Warships into Kobe Port by Kobe City Assembly (1975)
Foreign governments must certify warships to not be carrying nuclear warheads to be granted entry to Kobe Port
US government repeatedly attempted to undermine the Nuclear-free Kobe Formula
U.N. NGO Millennium Forum recommended the nuclear-free Kobe formula to world governments (2000).