Map Unavailable
Date/Time
Date(s) - Wednesday - Jun 16, 2021
2:00 pm - 3:30 pm
Categories
This webinar notes a meaningful socio-political phenomenon namely that of the Asian youth generation's political activism.

Speakers include:
Park Do-Hyung (Co-Representative of The Declaration of Global Citizen, Republic of Korea)
Nakayama Ayumi (Vice President of Democratic Youth League of Japan, Japan)
Wisallya Ngamna (Anti-Government Protester, Northeast Thailand )
Khin Sandar (Spokesperson, General Strike Collaboration Committee and organizer for the Milk Tea Alliance, Myanmar)
Moderators:
Stephanie Verlaan and Jessica Pardo
IPB Assistant Coordinators
The event will be recorded but not livestreamed.
Register here: https://bit.ly/3ciWigR
In recent years the youth, people in their 20s and 30s, also known as the M-Z generation, have become increasingly involved in civil direct actions aimed at democracy, justice, and peace on streets, squares, and online spaces. This has been particularly noticeable during political upheavals throughout East Asia. Notable examples include the involvement of the youth generation in Hong Kong's pro-democracy protests, Thailand's anti-government protests, and the civil disobedience movement against the military coup in Myanmar. In stark contrast to the older generation exhibiting hesitancy in supporting the pro-democracy demonstration in Hong Kong due to South Korea-China relations, Korean youths and college students have taken up solidarity with Hong Kongese. The younger generation's solidarity with Thai peers occurred in South Korea even as experts were still teaching Thailand's complex political situation. When Myanmar's young were being killed by military guns and bayonets, Korean 20-year-olds and high school students started taking the most visible and concrete action throughout South Korea. In fact, we have witnessed numerous examples of political activism by the younger generation. It was the youth who led candlelight demonstrations in South Korea in 2002, 2008 and from 2016 to 2017. Additionally, they are also credited for the SEALDs movement (Student Emergency Action for Liberal Democracy-s) against "War Bill" in Japan and the Umbrella Revolution in Hong Kong. However, the recent political activism of young people, centered on Generation Z, utilizes SNS and digital technology since they are the generation most familiar with such digital culture to overcome space-time constraints. They exchange ideas and practice solidarity across borders despite different national socioeconomic conditions, and confront common absurdities such as insecurity, unfairness and inequality. Their views are not limited to a single country. The culture they enjoy may already be "trans-national". For example, the "Three-Finger Salute" in The Hunger Games, a Hollywood movie, has become a symbol of resistance in Thailand and Myanmar, and the representation of the Milk Tea Alliance that connects Hong Kong-Taiwan-Thailand-Myanmar. Furthermore, the three-finger salute also conveys a message of support for their struggles around the world. In this webinar we pay attention to the means and culture of the younger generation's political participation, their critical thinking and peer ties connecting beyond borders. One of the cofounders of The Declaration of Global Citizen, a network organization led by people in their twenties in South Korea, responded in an interview with a weekly magazine to a request for a word to politicians of the older generation, "Please listen to us". Yes, this webinar is the time to listen to them. We are looking forward to meeting you.
Khin Sandar, Myanmar
Spokesperson, General Strike Collaboration Committee and organizer for the Milk Tea Alliance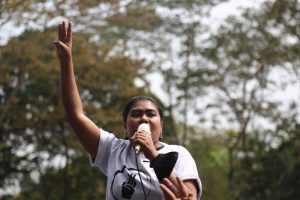 Wisallya Ngamna,  Northeast Thailand
Anti-Government Protester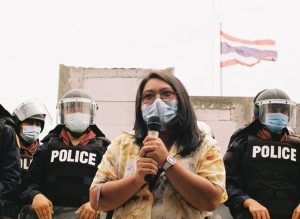 Park Do-Hyung
Park Do-Hyung entered Seoul National University in 2018 and began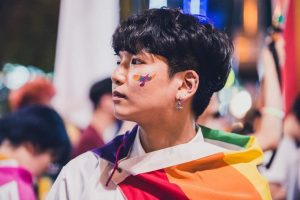 international solidarity by organizing "student group to inform the truth of Hong Kong" after learning the background and reality of the Hong Kong pro-democracy movement in 2019. He led a movement to create spaces called Lennon Wall in college campuses to support the pro-democracy protests in Hong Kong.
The Declaration of Global Citizen was founded in June 2020, and its members are all in their 20s. Park Do-Hyung is one of the co-founders. The slogan of the Declaration of Global Citizen is "For All Who Resist State Violence." It initiated the activities of South Korean civil society in solidarity with Thailand's pro-democracy protests. Since the coup in Myanmar, regarding the solidarity activities with the anti-coup d'état democratization movement in Myanmar, the Declaration of Global Citizen has been the most active youth organization in South Korea.
Nakayama Ayumi 

Ayumi serves as Vice President of the Democratic Youth League of Japan. She has been involved in the young people's movement for the abolition of nuclear weapons and ZERO nuclear power.  Since last year, the DYLJ has carried out food distribution campaign nationwide for impoverished students and young workers in the midst of the corona pandemic. Based on its nationwide surveys on their plight, the DYLJ has conducted public actions as well as negotiations with the national and local governments calling for necessary support measures for them.